LATEST NEWS – Jan 26, 2021
Fort Supply Technologies & True Ranches team up to provide a suite of Precision Livestock Management Solutions to cattle operations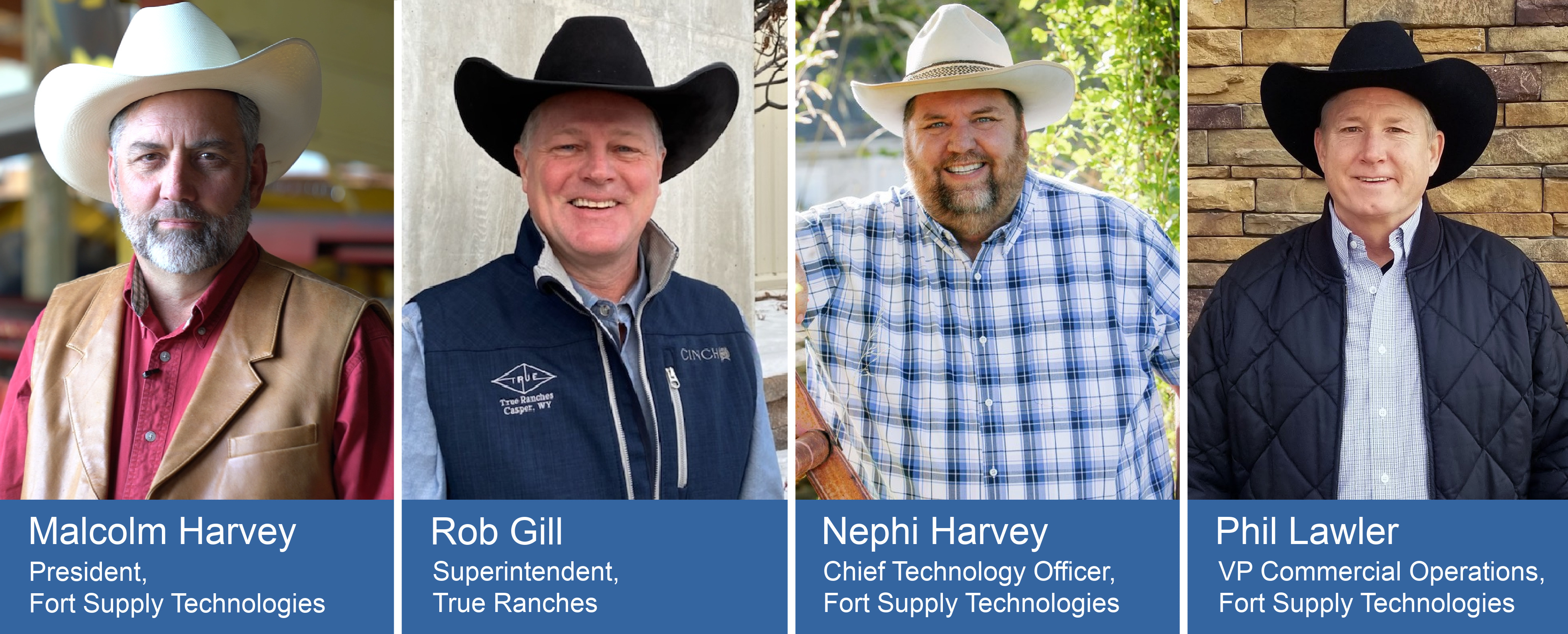 Fort Supply Technologies announces a significant investment from True Ranches to advance tracking solutions for the beef supply chain from the ranch, through finishing, to the packer. The synergy of these two exceptional companies will greatly accelerate Fort Supply Technologies' ability to provide resources and personnel necessary to more broadly implement solutions for dual frequency EID reading, autonomous health and asset monitoring, and managing of value-added cattle data. Fort Supply Technologies' suite of innovative solutions allows cattle operations to increase profit through technology by either automating or streamlining data collection and workflow.
Fort Supply Technologies is a leader in precision livestock management solutions that enable beef operations to meet consumer demand for safe and sustainable food, while improving overall productivity. Solutions include Dual Tracker, the beef industry's first and only dual frequency EID reading solution (patent pending); Health Tracker, an autonomous health monitoring and alert system that provides early sickness detection, minimizing the use of antibiotics (patent pending); Asset Tracker, an autonomous group monitoring and individual animal tracking system that keeps managers informed of unexpected movements; and Value Tracker, EID tags, readers, ruggedized devices, and software, all of which are guaranteed to work seamlessly together.
"Our operation was looking for innovative technology that would relieve several of our stress points. Early sickness detection, movement monitoring and eliminating human error in data entry were all areas we looked to improve. When Fort Supply approached us, we quickly saw the value in their solutions," said Rob Gill, Superintendent of True Ranches. "It didn't take long before we understood that a collaboration between our two companies would greatly benefit us and the beef industry."
"Fort Supply Technologies' solutions are game-changers for the beef industry. They provide cost-effective, easy-to-use technologies that address complicated and otherwise expensive problems. Teaming up with True Ranches gives us the opportunity to bring the benefit of our solutions to a much wider market," said Malcolm Harvey, President of Fort Supply Technologies. "True Ranches is a terrific fit for us. They are committed to accelerating progress in the beef industry, enhancing animal health and well-being and worker safety to delivering top dollar for value-added beef."
About Fort Supply Technologies LLC
Started in 2007, the founders of Fort Supply Technologies LLC are micro-electronic engineers through professional experience and concurrently maintain a cow/calf operation built on the heritage from a long line of family livestock producers. This unique combination allows them to understand the specific needs of today's beef producers. The company has evolved from a focus on innovative EID tags, rugged devices, data collection and data management to integrating the necessary components for simplified, cost-effective precision livestock management solutions. Fort Supply Technologies helps livestock operations focus on productivity, animal health and safety…not the technology. Watch for additional news releases on Fort Supplies Technologies innovative solutions. For more information, visit www.fort-supply.com.
About True Ranches LLC
True Ranches LLC, headquartered in Casper, WY, was established in 1957 with the purchase of their first ranch near Laramie Peak. Since then, True Ranches LLC has expanded to 8 ranches, 2 farms and a feedlot. Angus, Black Baldy and Hereford cattle are raised and finished at their feedlot along with feeder cattle purchased from other ranches. True Ranches takes pride in producing healthy beef. www.trueranches.com.
About Campbell Scientific Inc.
Campbell Scientific, Inc., is an international leader in remote and rugged data collection systems and remains a strategic partner and key supplier for Fort Supply Technologies, LLC. www.campbellsci.com
All trademarks are the property of Fort Supply Technologies LLC or related company unless otherwise noted
Fort Supply Technologies LLC
Phil Lawler
VP Sales and Marketing
859-421-1566