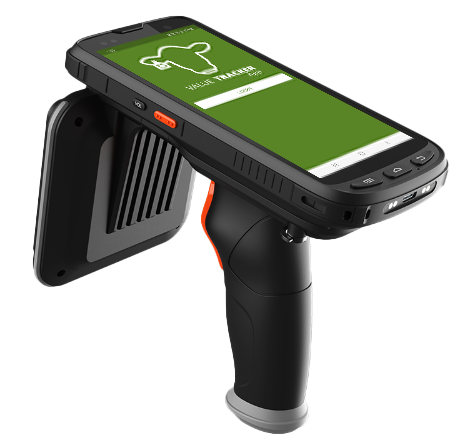 X6 Integrated Long-Range Handheld Reader
Tag readers require the Value Tracker app to record identification numbers
BEST-IN-CLASS RFID READ RANGE WITH A POWERFUL ANDROID 10.0 PLATFORM AND AN INTEGRATED 2D BARCODE SCANNER. The X6 Integrated long-range RFID handheld reader brings a new level of efficiency and accuracy to inventory management, allowing the scanning of UHF EID Tags while simultaneously able to capture Barcode or QR Codes all with one hand. The Rugged design is built for field environments, is lightweight with the right ergonomics for all day comfort, and the large touchscreen and Android OS deliver an intuitive and flexible platform.   
X6 Features
High Performance Computing Platform
P60 octa-core processor plus 2.0GHz, ARM 4 core A73 & 4 core A53 with large memory 4+64G(option)
Android 10.0 OS
Android 10.0 system is installed, optimized version is continuously updated
Signature Rugged Design & Industrial Grade Components
Rugged engineering plastics and new generation Gorilla Glass touch panel bring maximum scratch-resistance
and shatter-proofing to two of the most vulnerable device features. Industrial and military grade components ensure stability and endurance in harsh environments
Ultra Long Life Time
"All-in-one" design 9000mA large battery with unique 12nm FinFET battery low power management ensure lifttime
Own-designed Best-in-class UHF RFID Engine
The UHF module is based on lmpinj Indy R2000 chip, adding with LightPioneer's integrated omnidirectional ceramic antenna, bring maximum reading distance up to 20m and the best performance for single/multiple tag
reading.
Integrated Enterprise-class 1D/2D Barcode Scanning
Utilizing brand (Honeywell &Zebra) 1D/2D scanner delivers lightning fast standard-range capture of printed and electronic 1D and 2D barcodes, regardless of condition.
Excellent Mechanical Protection
The safety drop height is 5ft/1.5m, IP65 protection grade can resist dusts and splashes effectively.
PHYSICAL CHARACTERISTICS
Dimensions
166×79×31±2mm
Weight
650g
Display
5.5 inch IPS HD,dpi 720*1440
Touchpanel
Corning Gorilla Glass 3rd generation
Multi-touch capacitive screen
Expansion Slot
1pcs Sim(MUP-C785)、1pcs TF
1pcs PSAM(MUP-C785)
Communication
1pcs Type-c
Backlight
LED backlight
Keypad
Scan key, Number key
GPS
GPS and Beidou navagtion option
Error range±5m
Camera
Front: 5MP fixed focus
Rear: 13 MP& 20 MP option
Autofocus; flash LED generates balanced
BATTERY  CHARACTERISTICS
Capacity
3.8V Li-Ion 9000mAh option with fast charging
Standby time
360hrs if wireless communication are closed
Charging time
<5hrs(support quick charge)
Working time
14+ hrs (full of charge)
PERFORMANCE CHARACTERISTICS
CPU
MT 6771 Octa-core 64-bit processor
4 core A73 + 4 core A53,2.0GHz
Memory
RAM:2GB ROM:16GB(Standard)
RAM:4GB ROM:64GB(Optional)
Operating System
Android 10.0
Extended memory
Micro T card, up to 256GB
TELECOMMUNICATION
4G

TD-LTE Band38/39/40/41

FDD-LTE Band1,2,3,4,7,17,20

3G
WCDMA(850/1900/2100MHz);
2G
GSM/GPRS/Edge(850/900/1800/1900MHz)
Data Rates
2.4G/5G dual-band, IEEE802.11a/b/g/n/ac
with WiFi roaming (seamless switching)
Bluetooth
v4.2+ EDR w/ Bluetooth Low Energy
USER ENVIRONMENT
Operating Temp.
-20℃~50℃
Storage Temp.
-20℃~70℃
Humidity
5%~95% RH (non-condensing)
Sealing
IP65
Drop Test
Multiple 5 ft./1.5 m drops to concrete over the entire operating temperature range
DATA CAPTURE
RFID Reader(Option)
UHF
Frequency Range
915MHz、865MHz     (865-868MHz & 902-928MHz)
Standards Supported
EPC C1 GEN2 ISO18000-6C
Read Range
Up to 22m (Own-designed UHF modules option)
RFID Power Output
0 dBm to +33 dBm
RFID Antenna Type
Integrated Circular Polarized (5dbi)
HF
Working freq
13.56MHz
Standards Supported
ISO15693、ISO14443 dual-protocol
Read Range
0-7cm
LF
125K/134.2K ear tag
HF (CPU card)
Read/Write CPU card working with PSAM card
Active 2.45G (Custom)
Read range 200m, 200pcs tag reading for one time
BARCODE SCANNING (Option)
1D Barcode
1D laser engine
HoneywellN431X/other
Symbologies
Code39、Code93、Code128、Codebar、EAN-13、EAN-8、UPC-A、UPC-E、ITF14、UCC/EAN-128、ITF25、Matrix25、EAN-128、ISBN etc.
2D Barcode
2D laser engine
Zebra SE4710/Zebra SE2100/other
Symbologies

PDF417,MicroPDF417,Composite,RSS,TLC-39,Datamatrix,QRcode,MicroQRcode,Aztec,MaxiCode,PostalCodes,

USPostNet,USPlanet,UKPostal,AustralianPostal,JapanPostal,DutchPostal etc.

NFC(Option)
Working freq
13.56MHz
Protocol
ISO14443A/B ISO15693, NFC-IP1,NFC-IP2 etc.
Tag supported
M1 card(S50,S70),CPU card,NFC tags etc.
Read/Write range
5-10cm
ACCESSORIES
Standard
1xPower Supply; 1xLithium Polymer Battery、1x Type-c charging cable
Option
Charging dock
WARRANTY
Warranty
One year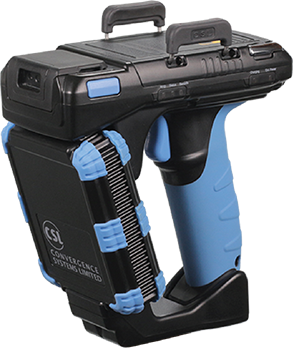 UHF CS108 Handheld Reader
Tag readers require the Value Tracker app to record identification numbers
This Rugged UHF RFID reader has the longest read range in the industry. It communicates over Bluetooth with devices running Android and Windows operating systems.
The range can be easily adjusted through the Value Tracker app for short range to isolate individual animals, powered up partway for mid-range work, or dialed up to maximum power for reading groups or animals on the move through an alley or gate.
CS108 UHF Handheld Specifications
Physical Characteristics (LxWxH)
Weight
Read Range
Best in Class Read Range : – Up to 18 meters with Linear Polarized Antenna (tag and environment dependent) – Up to 15 meters with Circular Polarized Antenna (tag and environment dependent)
Protocol
ISO18000-6C, EPC UHF Class 1 Gen 2, Dense Reader Mode available (Class 3 Gen 2 compliant)
Tag Information
All banks, any sizes (e.g. 240 bits bank1, 512 bits bank3); RSSI value
Frequency Range
One of the following: 865-868 MHz, 865-867 MHz, 902-928 MHz, 922-928 MHz, 920-925 MHz, 915-922 MHz, 915-921 MHz
Antenna Polarization
Choice of vertically linear polarized, horizontally linear polarized or circular polarized
Operating Temp
-20°C to 55°C (-4°F to 131°F)
Storage Temp
-40°C to 75°C (-40°F to 167°F)
Humidity
Ruggedized Designs
Drop test 1.2 meters on 6 sides; IP54
Interface
Android Phone, iPhone, Windows PC, Linux PC
Battery Capacity
3,400 mAh,field replaceable Option : extra battery (CS108B); external charger (CS108C)
Source Code Samples
Read tag, write tag, tag inventory, tag ranging, tag search, tag authentication, tag association, tag commissioning, barcode scanning, database manipulation, wireless network transfer, server side driver, etc.
Order Code for Frequency Regulations
CS108-V/H/C-2D-N
N=1: 865-868 MHz (Europe) & 865-867 MHz (India)
N=2: 902-928 MHz, USA, Canada & Mexico only (hopping frequencies locked)
N=2 AS: for 920-926 MHz, Australia only (hopping frequencies locked)
N=2 NZ: for 921.5-928 MHz, New Zealand only (hopping frequencies locked)
N=2 OFCA: for 920-925 MHz, Hong Kong only (hopping frequencies locked)
N=2 RW: for 902-928 MHz, Rest of the World that are subset of this band: e.g. Philippine, Brazil, Peru, Uruguay, Singapore, Thailand, etc.
N=4: 922-928 MHz, Taiwan
N=7: 920-925 MHz, China, Malaysia, etc.
N=8: 916.7-920.9 MHz, Japan
N=9: 915-921 MHz, Europe Upper Band
(V for vertically linear polarized, H for horizontally linear polarized, C for circular polarized, -2D means with 2D Barcode option)
User must abide by the laws and regulations of the RFID reader's application country and/or geographic region on frequencies of operation, output conducted power, antenna gain, and output ERP power.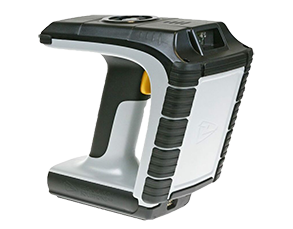 UHF 1166 Handheld Reader
Tag readers require the Value Tracker app to record identification numbers
This Bluetooth® Ultra-Rugged UHF RFID reader provides high performance UHF RFID reading in a tough and rugged form. The reader is highly resistant to water, dust and mechanical trauma. A high capacity battery enables non-stop operation of the reader over the full working day. The reader's 20 foot read range is designed to read and write to EPC Class 1 Gen 2 (ISO18000-6C) tags. The range can be easily adjusted through the Value Tracker app for short range to isolate individual animals, powered up partway for mid-range work, or dialed up to maximum power for reading groups or animals on the move through an alley or gate. Work all day without stopping as this reader has an 8 – 12 hour battery life.
1166 UHF Handheld Specifications
Physical and Environmental Characteristics
Dimensions: 177 x 94 x170 mm (LxWxH)
Weight: 860g (inc. battery)
User input: Single stage trigger
User feedback: Speaker, vibration motor, LEDs
Power: Rechargeable Lithium Ion removeable battery pack (11.25V, 2950mAh, 33.2Wh)
Enclosure materials: Polycarbonate and TPU (Thermoplastic Polyurethane)
Performance Characteristics
RFID Engine: custom module with embedded Impinj R2000
Communication protocols:  ASCII 2 Protocol (Parameterised ASCII command set) Impinj binary
Memory: Embedded 2GB internal NAND storage
Compatible Host devices (Bluetooth®): Any Bluetooth® Host supporting the Serial Port Profile (SPP) or Human Interface Device (HID) profile (Android, iOS, Linux, Mac, Windows).
Compatible Host devices (USB): Any USB host with FTDI VCP driver support (Windows, Linux, Mac, Android)
Peripherals and Accessories
External Interface: 8-way sealed connector with gold plated contacts
Bundled accessories: Battery
Other Accessories: Docking Station with power and USB cable Adapter mounts for a variety of smartphones, handheld terminals and touchscreen devices
RFID Performance
Standards supported: EPC Class 1 Gen 2
Nominal read range2: Up to 6 m
Field: 150-degree forward facing (approx.) measured from front of device
Antenna: Circularly Polarized
Frequency Range: EU: 865-868MHz; US: 902-928MHz
Output Power: 10mW to 1W
Bluetooth® Wireless Technology
Bluetooth1:  Bluetooth® Version 2.1 (optional v4.0 / 4.1 BLE)
Bluetooth Profiles:  SPP and Apple iApp – or – Bluetooth® HID (configurable)
Bluetooth Class: Class 1
Bluetooth Range4: 100m
Bluetooth Pairing: PIN, Simple Secure Pairing, NFC OOB Pairing (TBA)
Environmental
Operating Temperature: -4°F to 131°F / -20°C to 55°C
Charging Temperature: 41°F to 104°F / 5°C to 40°C
Storage Temperature: -40°F to 158°F /-40°C to 70°C
Humidity: 5% to 95% non-condensing
Drop specification: TBD
Tumble: TBD
Environmental Sealing:  TBD
Electrostatic Discharge: ± 15kVdc air discharge; ± 8kVdc contact discharge
MIL-STD 810F: TBD
Regulatory
General: Approved for use in the US, EU and Australia.
Electrical Safety: (UL60950-1, CSA C22.2 No.60950-1, IEC 60950-1, EN 60950-1)
EMI/RFI: (USA: FCC Part 15, EU: EN 301 489-3, EN 301 489-1, EN 301 489-17, EN 302-208, EN55022 Class B, EN55024)
Laser Safety: (IEC Class2/FDA Class II in accordance with IEC60825-1/EN60825-1, 21CFR1040.10)
Warranty
The reader is warranted against defects in workmanship and materials for a period of one year (12 months) from date of shipment, provided the product remains unmodified and is operated under normal and proper conditions.
Notes
1 Compatible Bluetooth stack required in the Host device2 Tag Read/Write performance is dependent on tag type, items tagged, number of tags in the field and other radio and environmental factors3 Artificial lighting can affect scanning performance4 Open field
For information on RUGGED TAG SCANNERS & our Connectivity Guarantee
Contact Fort Supply Today